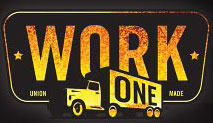 Only Made in USA.Work One is very proud to make this statement. Not many brands can. Over 98% of the footwear consumed in this country today is not made here.

Weinbrenner Shoe Co. has been manufacturing footwear in the USA since 1892. We are committed to be still doing so in 2092 and beyond.

Our dedicated factory workers have been union affiliated since 1943. They proudly craft the most technically advanced safety footwear available today. You can rest assured that every pair meets the rigid safety requirements of the American National Standards Institute, produced in an ISO 9001:2000 quality environment.